3D mapping solution for drones (UAV Lidar system)
We understand the problems you need to solve and have combined survey experience with intelligent thinking to design a reliable and practical solution. And we've made it simple. All the complex integration is complete.
The result – an immediately operational, robustly engineered, survey-grade turnkey UAV Lidar system combining workflow methodologies, software, hardware and firmware. The Routescene system is robust, accurate and proven which, thanks to the 1.4m points per second from its 32 lasers, enables excellent vegetation penetration.
The main challenge in undertaking any UAV LiDAR survey is the processing of the huge volumes of data that are collected. Routescene's own dedicated processing software delivers an efficient workflow. It makes processing easy and enables you to turn results around quickly.
"Out of the box" system
With the turnkey Routescene UAV LiDAR system you are immediately operational including:
1. workflow methodologies – a "how to" manual to get you operational as fast as possible
2. our powerful software LidarViewer® Pro to visualize, provide quality assurance and post-process your LidarPod® data
3. QA Monitor, a web based app, for immediate and continuous real-time in-flight data monitoring
4. hardware
5. firmware
6. training and technical support
For a full list of what is included in our premium UAV LiDAR system see our Technical Specification Brochure.
Proven, robust, reliable system
We work closely with customers so they quickly benefit from the knowledge and experience we have gained over the last 10 years, to ensure they can undertake surveys and produce outcomes with a high level of confidence in as short a time as possible.
Michael and Ben from FlyThru in the UK talk about their experiences of using their Routescene UAV LiDAR system
What's in the package
The hardware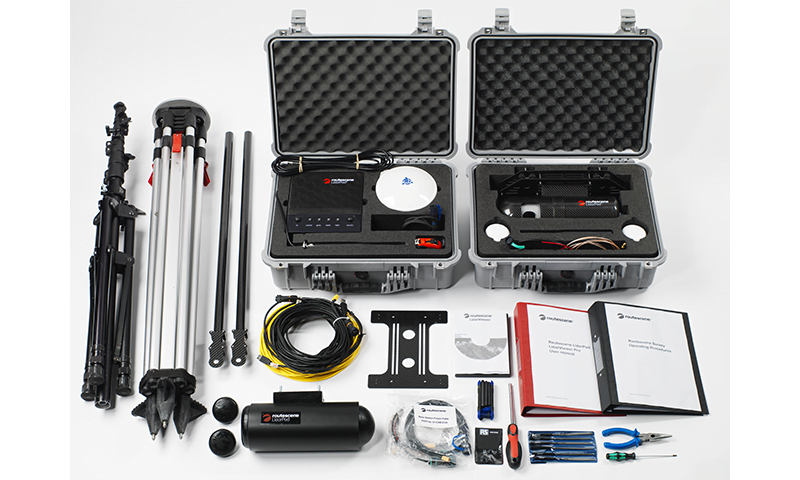 Routescene LidarPod®
Robustly engineered, lightweight and compact, our integrated 3D mapping tool contains a survey grade LiDAR sensor, RTK GNSS\INS, data storage, radio telemetry. The Routescene® LidarPod contains all you need to collect precise survey data, quality control the data in real-time and create a very dense and accurate georeferenced point cloud.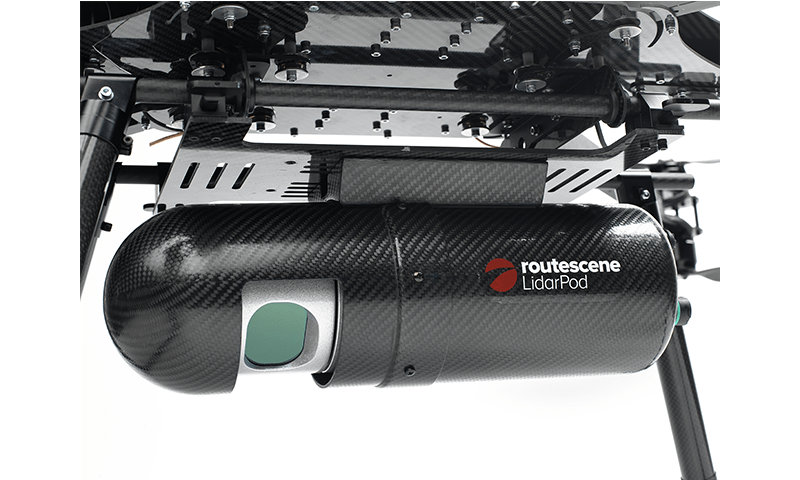 Uses proven LiDAR technology (Light Detection and Ranging)
The most robust UAV LiDAR system on the market
Aerodynamic carbon fiber protective shell
12 hour data storage enabling a full day in the field
Can be fitted onto any mobile platform – drone, vehicle, boat, manned helicopter
For full technical specifications see our Technical Specification Brochure.
Learn more about accuracy and what it means for UAV LiDAR
Ground station
For the Routescene UAV solution the Ground Station is an essential component of the package, along with GNSS antenna, radio antenna and tripod. The Ground Station ensures RTK GNSS corrections are transmitted to the LidarPod and quality assurance and status information is transmitted to QA Monitor, the real-time in-flight data monitoring software.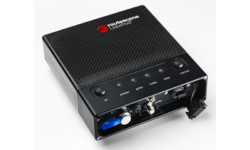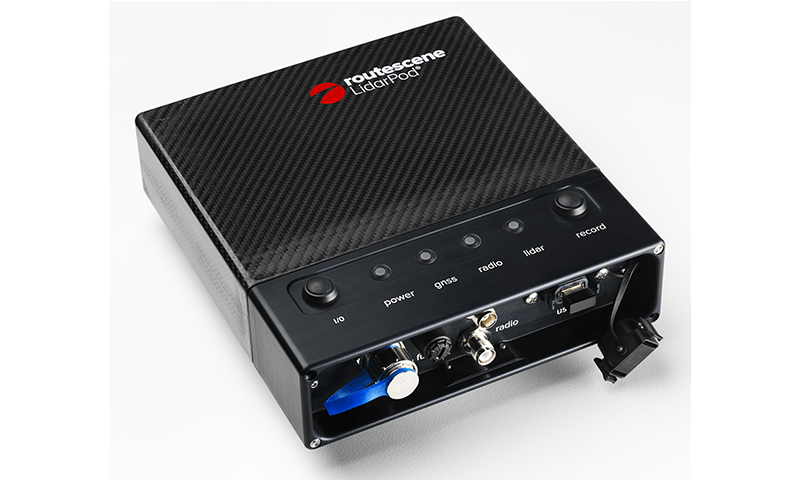 The Ground Station is robust, lightweight and portable made from carbon fiber. The Ground Station ensures RTK corrections are transmitted to the LidarPod and quality assurance and status information is transmitted to QA Monitor, the real-time in-flight data monitoring software.
Drone (UAV) mounting kit
For easy integration on any rotary UAV.
The LidarPod is UAV agnostic and will fit on any rotary drone that can take a payload of 3 kg. Our carbon fiber vibration damping mounting kit for the LidarPod is lightweight. Specially designed and tested for ease of use and to reduce vibration from the UAV.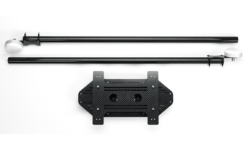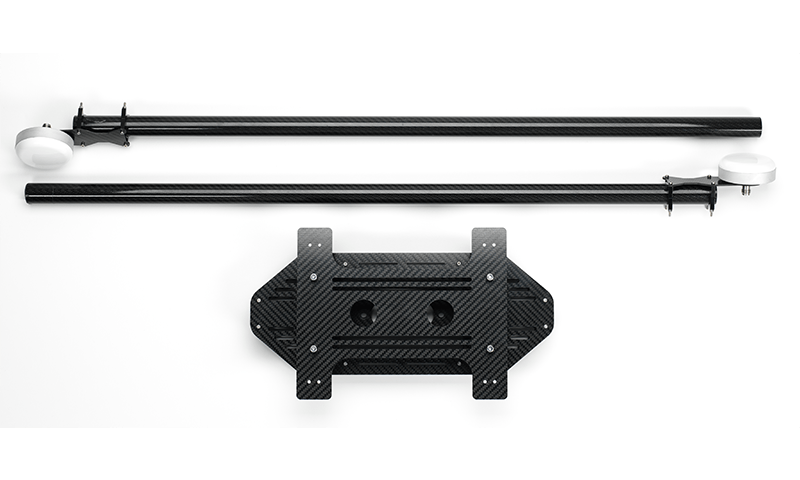 Training and technical support
Training and technical support is a key focus, to ensure you are able to maximise your return on your investment as quickly as possible..
Product conformity
The product is non-ITAR (International Traffic in Arms Regulations) rated so it is not subjected to export controls. The LidarPod has been independently CE and FCC certified to ensure it is compliant to electrical and radio transmission standards.

See a wide range of case studies of the Routescene UAV LiDAR system in action. Click here
Transforming surveying worldwide