Looking back on GeoBusiness 2019
Posted on May 30, 2019 in Events
Last week we presented and exhibited at GEOBusiness 2019 the UK's largest geospatial event. The conference attracted experts from across the globe to discuss the issues facing the industry. Today we report on our key takeaways from the event:
Quality Assurance is key
As Gert Riemersma highlighted in his Commercial Workshop, quality assurance is a prevalent issue facing the industry. In the excitement of innovation, the market has forgotten basic survey principles and has accepted popular rhetoric. UAV LiDAR systems are dynamic, never in the same place and collect discrete points which can never be measured twice. Based on years of field experience, we've engineered a UAV LiDAR solution. We have developed a rigorous Quality Assurance methodology to quantify the accuracy of every UAV LiDAR survey. Using these Quality Assurance tools, procedures and reports, built into the Routescene integrated system, users can determine with confidence the accuracy of their survey and that it meets industry standards.
Read more about the Routescene UAV LiDAR system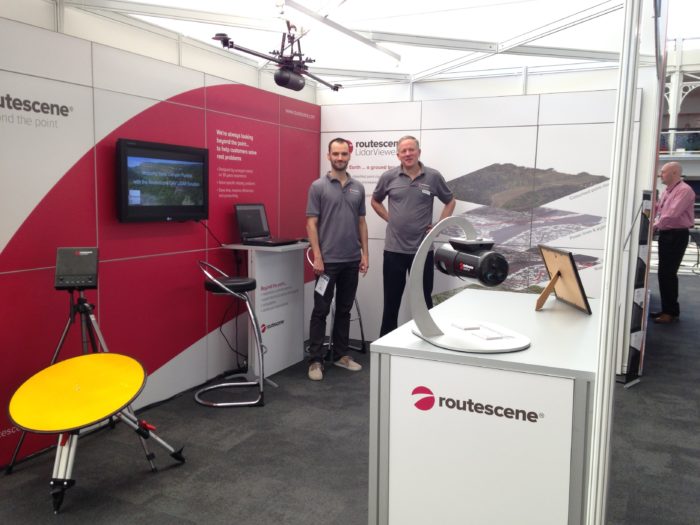 UAVs and LiDAR are no longer a novelty
Drones and LiDAR are no longer a novelty business, we see heritage, agriculture and mining as examples of industries embracing these technologies. The survey industry is now accepting UAV LiDAR technology as a viable form of mapping. In 2013 the formation of ARPAS, The Association of Remotely Piloted Aircraft Systems UK, created a non-commercial professional body that legitimised the drone profession and promotes safe operational best practice.
Absent AI
Artificial Intelligence (AI) is a source of excitement for the LiDAR industry, particularly the potential impact on the automation of data processing. Automation is available for imagery (photogrammetry) but, despite much talk, it is not yet there for LiDAR. The potential benefits of AI mapping are numerous, but there is still much work to be done to make these visions a reality.
Recruiting young people
Over 85% of UK surveyors said they have problems recruiting due to a lack of qualified applicants (RICS, 2015). The survey industry is a fascinating and rewarding industry to work in. However, if we want to continue growing and thriving, we need more bodies joining the workforce. Get Kids into Survey is an initiative created to get more young people interested in the industry through apprenticeships, scholarships and courses. As our industry grows, we need to ensure we are bringing in the best people to help it flourish. Here at Routescene, we look forward to helping more young people discover the exciting opportunities in the industry.