NEW! Routescene LidarViewer® Bare Earth tool
Our aim is to simplify and reduce the time you spend post-processing LiDAR data. We know that creating bare earth model or Digital Terrain Model (DTM) is one of the most critical steps in LiDAR data processing on which your subsequent analysis is then based. Achieving bare earth modelling quickly and easily is the ultimate goal.
With our new LidarViewer Bare Earth tool you can do just that. In one step with our automated process you can quickly and cost-effectively remove all non-ground points and reveal the ground surface. Brilliant.


The might of our LidarViewer® Bare Earth tool
All classification processes start with establishing a bare earth (DTM) then building on this.
With our new LidarViewer Bare Earth tool you can:
1. detect the ground and prepare a bare earth model which enables an in-depth assessment of terrain such as:
creation of relief maps; overlay a DTM with detailed maps to establish contours and other geographical elements and natural features such as rivers, ridge lines, or to extract terrain parameters
hydrologic modelling to delineate watersheds, calculate flow accumulation and flow direction, to enable flood risk assessment
terrain stability; high slope areas with sparse vegetation are prone to avalanches and landslides, useful when planning a highway or residential subdivision
soil mapping, which is a function of elevation (as well as geology, time and climate)
detection and analysis of cultural artefacts.
2. create a bare earth model to remove the terrain from your dataset, leaving behind all the natural and man-made objects above the ground for further analysis and classification. Superb for:
vegetation management to see where and how much vegetation is encroaching
extraction of powerlines
extraction of highway assets and other infrastructure
determination of vegetation and forestry biomass.
Beyond the point… the benefits of our Bare Earth tool
Ease of use and increased productivity
Radically reduces the number of software packages and steps in the process to create a bare earth model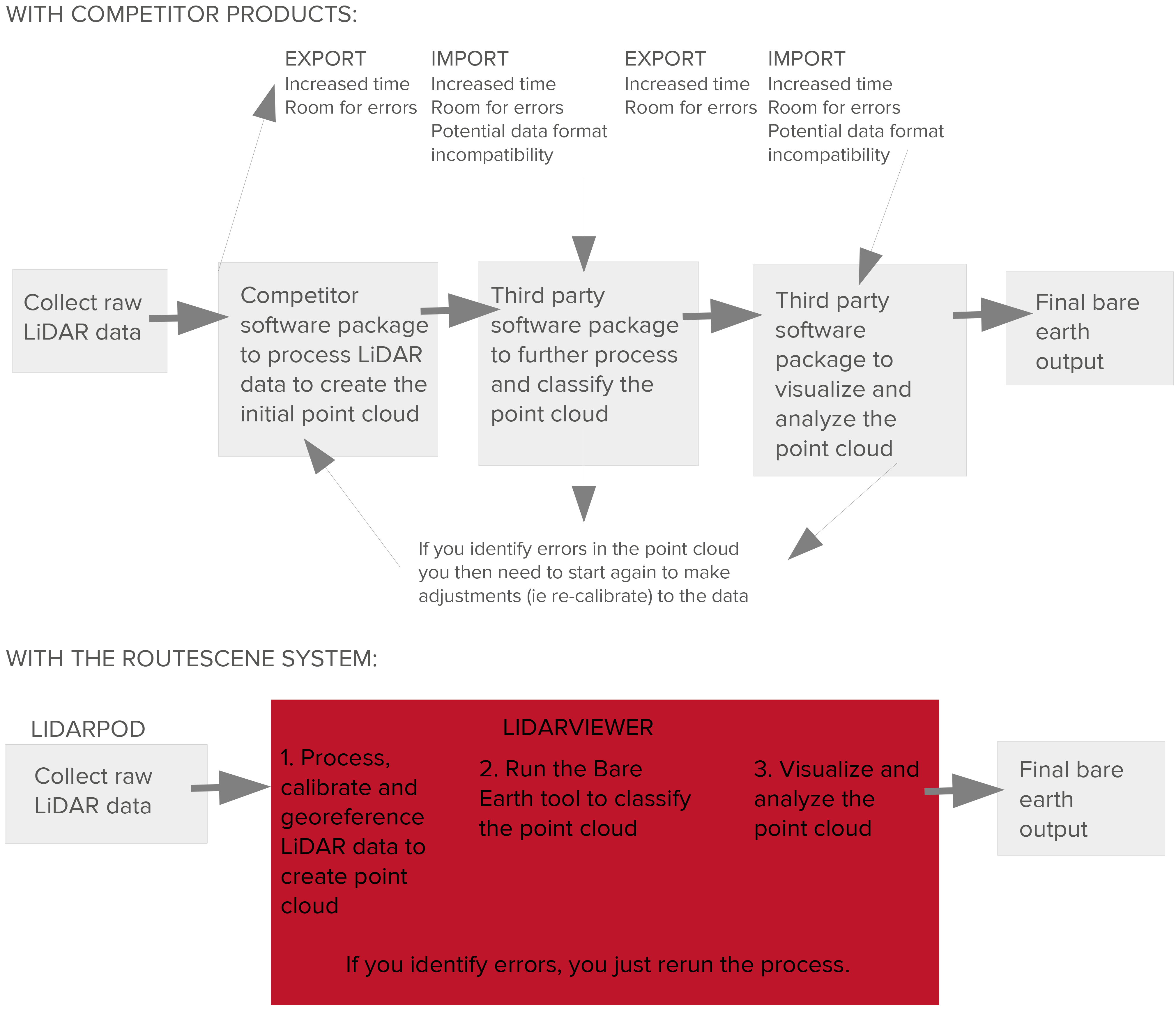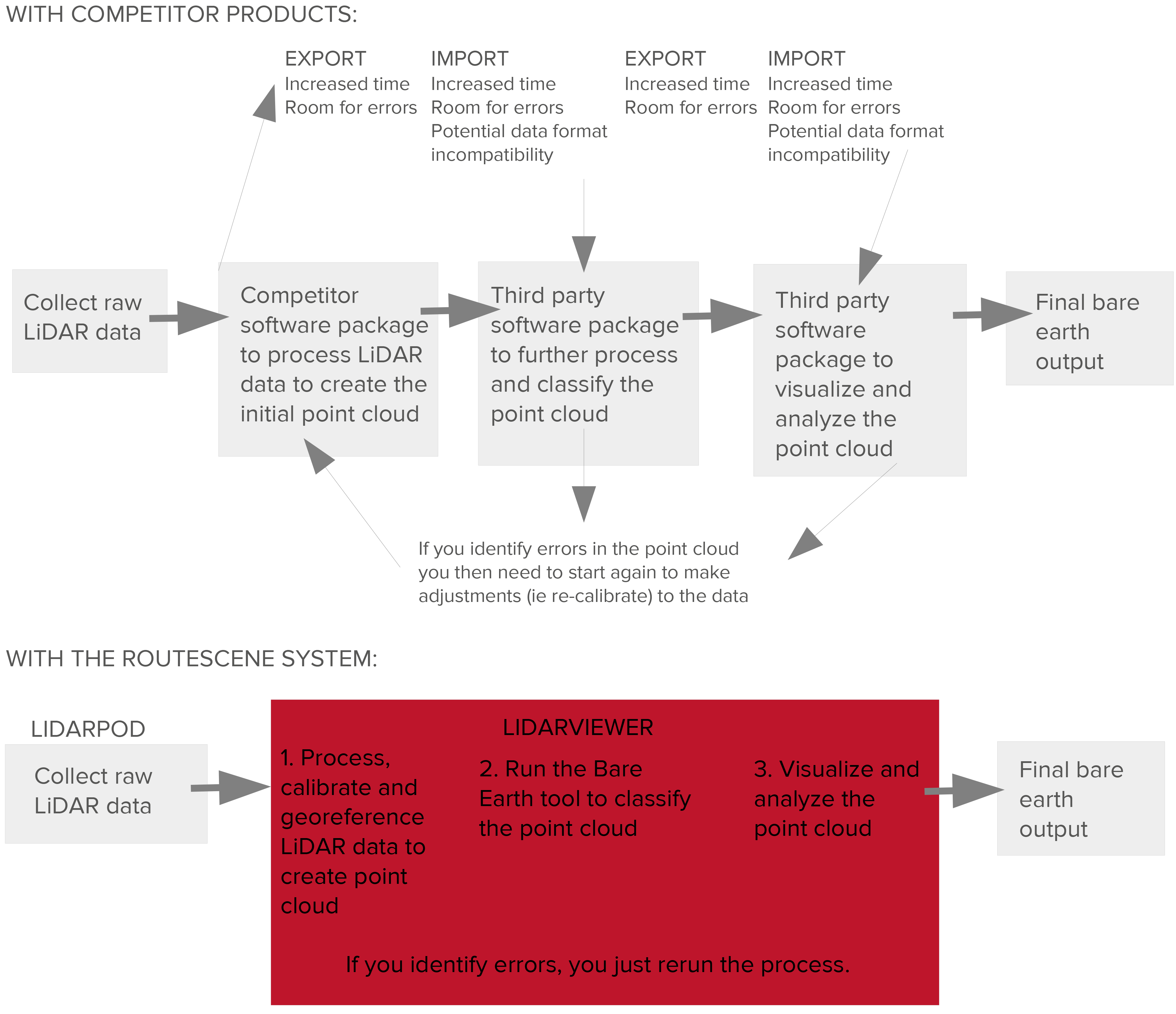 Benefits of the LidarViewer Bare Earth Tool
Saves time – a real game-changer
We know our new Bare Earth tool saves at least 2 hours of data processing time per iteration of a data file.

Case study example: In 2016 we undertook a powerline inspection in the UK covering a 12 km long by 400m wide powerline corridor, a difficult project over complex terrain with flight restrictions. The raw data was captured across 20 data files and took over 6 weeks to process.

With this experience we developed our Bare Earth tool. Using LidarViewer and our new tool it will now take 1 week to process the same dataset.

= 83% reduction in time taken to process data
Streamlined classification processing
Transforms data classification from a difficult, often command-line based process, time consuming and manual interpretation process to a simple, automated process using only 1 software package.

At the press of a single button you can generate classified point clouds.

Customer success stories
Discovering 750 year old dwellings in dense woodland in Colorado. Click here
Locating remains of WWII prison camp on Island of Alderney. Click here
Protecting woodland in the Scottish Highlands. Click here
Mapping forests near Chernobyl. Click here
Monitoring landslides in Ystalyfera, South Wales. Click here
Surveying a new cycle route in Oban, Scotland. Click here
Preserving trees when clearing building site, Coventry, UK. Click here 
Beyond the point… using our knowledge to help customers solve real problems