What hardware is included with each Routescene UAV LiDAR system?
Included in our turnkey solutions we provide all the hardware you need to collect your survey data.
There are 8 main hardware components in each system:
LidarPod
Dual GNSS antenna and antenna poles
UAV radio telemetry antenna
Ground Station
Ground Station radio telemetry antenna
A set of Ground Control Targets (optional)
UAV Mounting Kit
Peripherals
LidarPod with dual heading GNSS
The "LidarPod" is the integrated 3D mapping tool. It is a self-contained unit which includes a LiDAR sensor, RTK GNSS/INS sensor, data storage and radio telemetry.


Available in a number of configurations, you can choose from a range of LiDAR sensors and GNSS/INS sensors to suit your performance and price requirements. Compare the different product technical specifications to establish the best option for you.
Also included are 2 LidarPod GNSS antenna and antenna poles to provide a high accuracy dual heading solution and a UAV radio telemetry antenna to enable remote control of the LidarPod direct from the Ground Station.
Ground Station with optional RTK GNSS receiver
The Ground Station is an essential component of the package and enables the command and control of the LidarPod during the survey. Providing real-time monitoring of the survey mission, it aids the Quality Assurance process and ensures you are immediately alerted of any technical issues that may arise.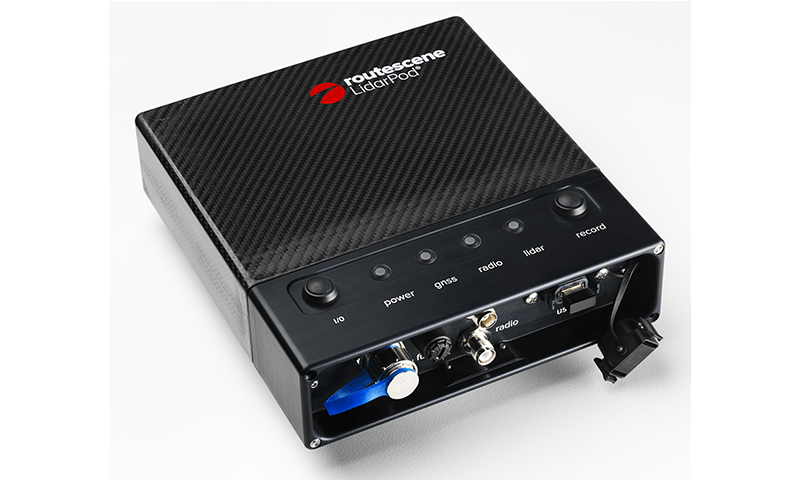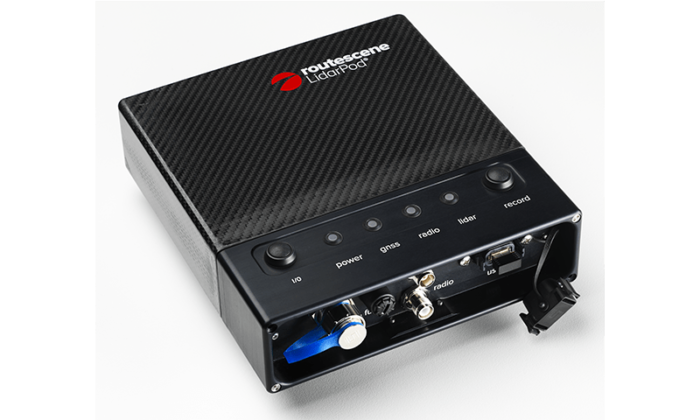 The Ground Station is constantly in contact with the LidarPod via the in-built radio telemetry and can send RTK corrections to the LidarPod (optional). For Quality Assurance purposes status information is transmitted by the LidarPod and received by the Ground Station. This status information is visualized in QA Monitor, Routescene's real-time survey mission monitoring web application.
In normal operation the Ground Station is connected to a radio telemetry mast (optionally supplied) using a standard camera tripod attachment. The mast is extendable to 5m to help extend the range of the radio telemetry. An in-built Wi-Fi module acts as the Access Point, so you can use any Wi-Fi enabled device such as a tablet, laptop or mobile phone to connect to the Ground Station and you can access the QA Monitor app using a standard web browser. The Ground Station is robust, lightweight and portable.
The Ground Station can optionally be fitted with a GNSS RTK base receiver, enabling it to transmit RTK corrections to the LidarPod and log the observations for post-processing purposes. This option is ideal if you want the results as soon as possible, prefer not to post-process or do not have any GNSS base stations within 100km of your survey site.
Ground Control Targets
Deploying Ground Control Targets on known Ground Control Points prior to a UAV LiDAR survey provides the assurance that the survey has been properly executed.
UAV mounting kit
Our mounting kit is specially designed to dampen the vibration from the UAV. Made from carbon fiber, it is lightweight and easy to integrate onto any multi rotor drone capable of safely carrying a 2.5kg payload.
Peripherals
To enable you to quickly become operational and proficient with the Routescene system we supply:
Tools and tape measures
Robust transit cases and tough equipment bags to ship the equipment in an easy manner
Product and training manuals
Routescene's Survey Operating Procedures
Additionally, you can also opt to include the following in your package:
A dummy system which is the same shape and weight as the real payload, so you can rack up UAV flying practice hours without jeopardizing your new equipment
Spare LidarPod cables and accessories to ensure minimum downtime
Survey and radio telemetry tripods
The benefits of Routescene's UAV LiDAR mapping systems
| | | |
| --- | --- | --- |
| | Easy to deploy | Our systems are portable and easy to deploy. We supply all the equipment (excluding the UAV) for immediate operation. |
| | Robustly engineered | The LidarPod is a sealed unit and no assembly is needed which eliminates user error. Minimal number of external connectors, significantly reducing risk of failure. |
| | High level of autonomy and security | Our UAV LiDAR solutions do not rely on a mobile phone nor an internet connection to operate. This ensures that a high level of autonomy, operational and data security can be maintained. |
| | Weatherproofness | Able to withstand a light rain shower, the LiDAR scanner options within the LidarPod are rated to IP67; the LidarPod has IP68 rated connectors and rubber seals to ensure no water ingress. |
| | Reliable data storage | Internal solid state data storage enabling 12 hours of data to be collected. Resistant to vibration in flight, to rough handling by users and plenty of capacity for a long UAV or vehicle survey. |
| | Product conformity | The Routescene LiDAR drone systems are non-ITAR (International Traffic in Arms Regulations) rated so are not subjected to export controls. The LidarPod has been independently CE and FCC certified to ensure it is compliant with electrical and radio transmission standards. |