Improve UAV survey accuracy with Ground Control Targets

| | | | | |
| --- | --- | --- | --- | --- |
| | NEW in 2022! Photogrammetry target decal added | | | |
| | Used for combined drone LiDAR and photogrammetry surveys | | | |
| | Achieve robust and quantifiable results | | | |
| | Calibrate the equipment on every project | | | |
| | Demonstrate that the specified level of accuracy is achieved | | | |
| | Simplify post-processing and avoid data alignment issues | | | |
| | Ensure the best possible accuracy is accomplished | | | |
A robust survey and data processing methodology, deploying Routescene's specially designed Ground Control Targets to set Ground Control Points (GCP), will enable ground control to be verified.
Why use Ground Control Targets to improve and verify accuracy?
Watch this video to understand the benefits:
Quality Assurance every survey
For excellent UAV LiDAR and photogrammetry results, you need to undertake Quality Assurance and Routescene provides this as standard. Deploying Targets on known and accurately coordinated GCPs prior to a drone LiDAR or photogrammetry survey provides the assurance that the survey has been properly executed.
Routescene's Ground Control Targets are large discs to be positioned within your survey area. Placed on known geographical points (the GCPs) the coordinate of each Ground Control Target is established using an accurate and independent survey technique. While establishing Ground Control Points can be time consuming, it takes less time than re-flying a project to improve accuracy.
For UAV LiDAR surveys
The number of Ground Control Targets to be deployed depends on the size of the survey area: for a 500 x 500m area we recommend 4-8 targets are used for the boresight calibration and as
check points. Typically each Target will be hit 200-300 times by the lasers from the LiDAR system and can easily be seen in the resulting geo-referenced point cloud. The LiDAR reflective targets and resulting GCPs can be consumed in Routescene's post-processing software, LidarViewer Pro, which automatically generates Quality Assurance Reports.
For UAV photogrammetry surveys
The number of Ground Control Targets to be deployed depends on the size of the survey area and the altitude at which you need to fly the site. The lower you fly, the more detail will be captured per photo and the higher the photo resolution will be. However it also means that less photos will contain a GCP and the more photos are needed to cover an area.
Specifically designed UAV LiDAR and photogrammetry targets
For LiDAR: Covered with highly retro-reflective material to provide high-intensity returns which are easily identifiable in the resultant point cloud
For photogrammetry: Includes a checkered photogrammetry decal for easy identification in the photographs
Target raised from the ground using a tripod to enable easy identification and allows the returns to be automatically extracted from the point cloud
Bubble level built in to enable accurate levelling removes the need for a tribrach
Robust and more likely to stay in position during windy conditions. Reducing the risk of repositioning during a survey.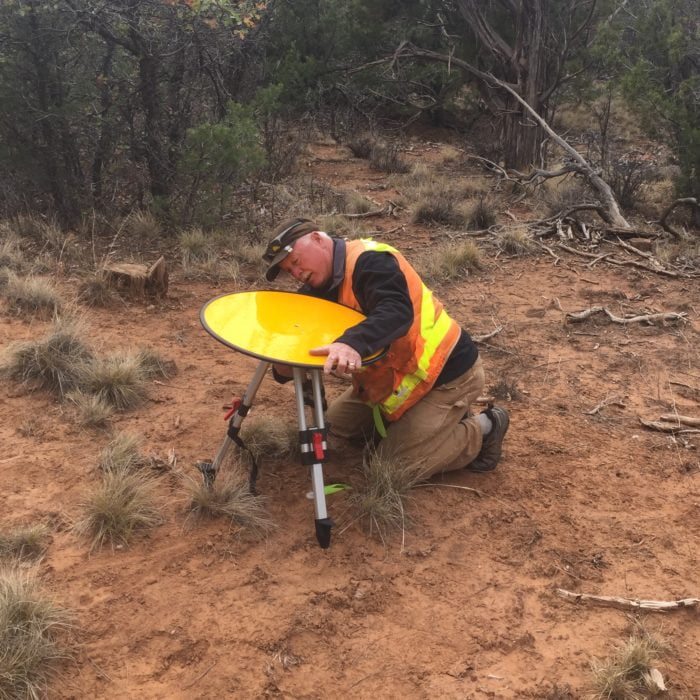 Routescene Ground Control Targets are easy to deploy (Sand Canyon survey – 2018)
Ground Control Target specification
60cm diameter
Topped with retro-reflective material which provides a high intensity return in the point cloud
Circular black and white checkered decal to geo-reference aerial imagery
Bubble level built-in for accurate levelling
Centre brass disc with 5/8″ threaded hole for fitting onto a standard survey tripod
Protective rubber rim for easy handling
Weight: 2.7kg per Target (excluding the tripod).
Mini tripod specification
1 x mini tripod per Target
Specially designed for quick repositioning and levelling
Quick locking, ergonomically designed excentric clamping levers for easy handling, even when wearing gloves in cold conditions
High-quality aluminium tubes and profiles. Anodized aluminium, weather-proof for the toughest use
Tripod head made from polymer-fiberglass composite and features integrated circular vial for quick setting up
Plastic components are all robust polymer-fiberglass
Solid tips
Working range: 38–59cm
Transport length: 47cm
Weight: 1.8kg.

What's included in a set:
4 x Ground Control Target
4 x mini tripod
1 x tough carry bag with handle for 4 x Ground Control Targets
Guide with step by step procedures on how survey in Ground Control Points, deploy Targets and use the results in QA Reports.
Committed to Quality Assurance
Routescene has a strong ethos of Quality Assurance. We are the only manufacturer offering targets specifically designed for UAV LiDAR mapping. Investing in Ground Control Targets for UAV LiDAR surveys increases the value of your data. Taking that extra time and effort to install Targets and to generate Quality Assurance reports will improve the quality of and your confidence in the resultant data.
"When working for engineering and survey clients accuracy has to be paramount for us. Utilizing the special laser reflective ground control targets from Routescene we have been able to clearly identify survey monuments in the field, survey them and identify those targets in the scan. Having these targets enhances our ability to evaluate the scan's alignment and our ability to evaluate and report on horizontal and vertical accuracy. It is something that has separated us from the pack. Rekon has had great success with deploying these targets, excellent system."

Vashaun Henderson, Rekon Solutions, Canada