UAV LiDAR for Survey & Mapping
Over the past few decades technology and automation have revolutionized surveying and mapping and continue to have an impact. With the emergence of LiDAR, drones and GPS, what once required teams of people on months-long expeditions can now be done with one or two people. Technological advancements are not only changing how land surveying is done, but also where the work is performed and by whom. Often working remotely or at a distance without setting foot on the land being measured and mapped.
What is surveying?
Land surveying is the process of determining boundaries and areas of tracts of land, locating and evidencing important features such as buildings, landmarks, trees and natural elements. Whilst topographical surveys are used to produce maps, typically used by engineers and architects to plan and design construction or reconstruction projects.
Typical survey projects
The rise of technology is changing the way surveying is done making it accessible to a wide range of industries from mining to construction. Projects can span land use planning, for residential, commercial, industrial, or mixed use areas; planning for greenways and recreational areas; to infrastructure development.
The benefits of UAV LiDAR surveying and mapping
Technology continues to advance the capabilities of surveying and mapping. Using LiDAR on drones has simplified the entire survey process, created safer working environments, brought quicker processes and efficiencies, and enabled the production of more precise work.
Here are some of the benefits of adopting Routescene's UAV LiDAR solution in your approach to drone survey and mapping:
1. Time saving
Traditional surveys can take days or weeks to capture data. With drone LiDAR you spend less time gathering data. A survey can be completed within hours and processed within the same day. Giving you results more quickly to make decisions.
2. Cost-effective
The acquisition of data can be done in a timely, accurate and safe way, and at a cost much lower than that of surveys using satellites or manned aircraft.
3. Accessibility
You can survey areas which are difficult or impossible to undertake by other means. For example hostile or hazardous terrain, cliffs and valleys with inaccessible steep slopes, where conventional surveying is challenging and time consuming.
4. Accuracy and resolution
Spatial resolution and accuracy are important parameters in surveying. Greater point cloud density and accuracy can be achieved with drone mounted LiDAR than manned aircraft as the drones are able to fly lower and slower.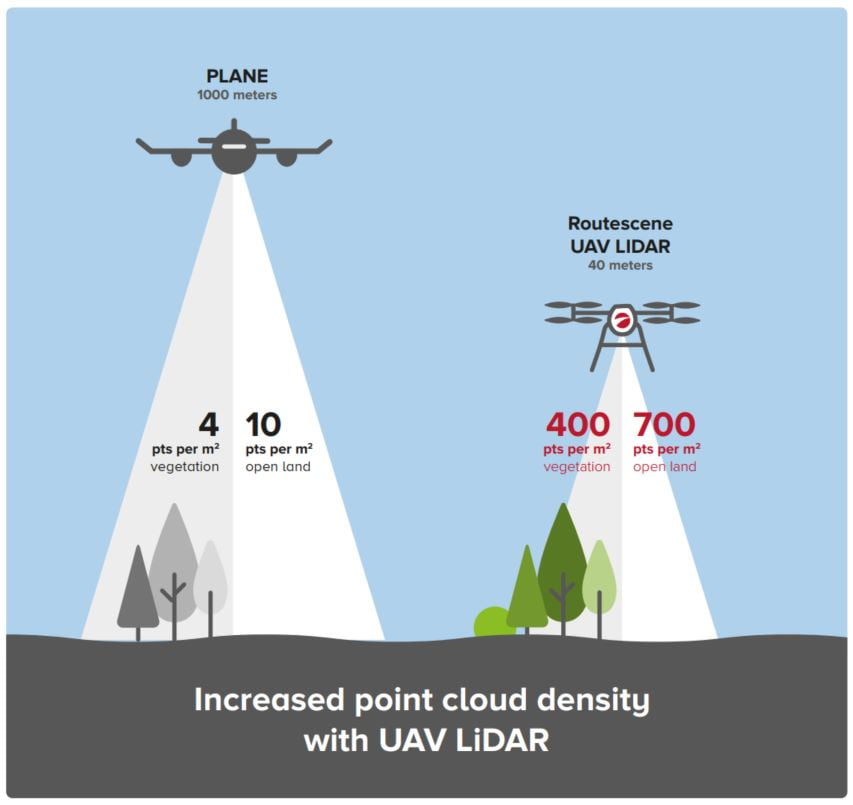 High accuracy and resolution UAV LiDAR data can be used to construct accurate Digital Surface and Terrain Models (DSMs and DTMs) and 3D landscape maps.
By implementing our Quality Control measures, including establishing ground control points, you can verify the accuracy of your survey and outputs.
5. Penetrate through vegetation
One of the major advantages of UAV LiDAR over photogrammetry is LiDAR's ability to penetrate vegetation to reach the ground below. Using our LiDAR software highly detailed DSMs and DTMs can be created to measure parameters and compare datasets over time.
Use Case: Penetrating vegetation to prepare an overgrown site for construction
UAV LiDAR proved particularly useful at an overgrown site in Coventry, UK. Not only for locating large old trees to be saved, but also for estimating how much soil would be required to make the site level. Read more about this case study.
"The LidarPod has been great for us in terms of its vegetation penetration. 90% of the work that we get is about the data that can be acquired in difficult to reach, heavily vegetated areas. I think we were surprised by the amount of points per m2 we were achieving through dense vegetation, not just in winter, but in summer. And clients seeing 400 and 500 points where they had been seeing 2 or 3 actually allowed us to develop the business with those clients. By investing in the Routescene system we have managed to grow the business by more than 50%."

Michael May, FlyThru, UK
6. Safety
Land surveying can be a risky job. Drone LiDAR improves safety. It eliminates the need for surveyors to explore unknown terrain and avoids working in high risk places such as railway lines and rocky terrains.
Use case: Protecting homes from landslides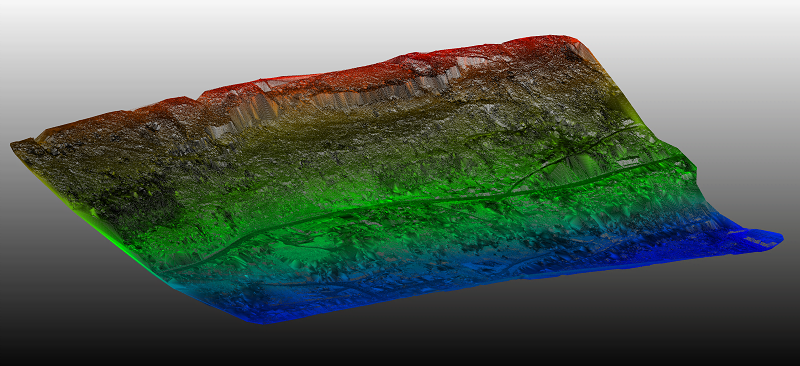 See how the Routescene UAV LiDAR system was used to safely survey landslides that were threatening homes in Ystalyfera, South Wales, UK
7. Flexibility
The UAV LiDAR system can quickly and easily be transformed into a mobile mapping system for use on vehicles. This gives you the flexibility to capture data in the most suitable manner for the terrain and your application.
See more about Routescene LiDAR mobile mapping system
Useful articles:
Watch this video from Geospatial World on the benefits of drones in surveying and mapping: