The Velodyne HDL series of laser scanners are used as a component of the Routescene LidarPod® or they are available for purchase separately, giving you the option of integrating the LiDAR sensor with your own system—whether it's set up for mobile mapping, virtual reality simulation, robotics or automotive testing.
Velodyne LiDAR scanner product range
HDL-32E
The HDL-32E LiDAR sensor is small, lightweight, ruggedly built and features up to 32 lasers across a 20° vertical field of view. The HDL-32E measures only 5.7″ high x 3.4″ in diameter, weighs less than two kilograms and was designed to exceed the demands of the most challenging real-world autonomous navigation, 3D mobile mapping and other LiDAR applications.
Applications include automotive, UAV, mapping, agriculture, topography and geology.
HDL-64E
The HDL-64E LiDAR sensor is designed for obstacle detection and navigation of autonomous ground vehicles and marine vessels. Its durability, 360° field of view and very high data rate makes this sensor ideal for the most demanding perception applications as well as 3D mobile data collection and mapping applications. The HDL-64E's innovative laser array enables navigation and mapping systems to observe more of their environment than any other LiDAR sensor.
Applications include mining, geology, mapping, urban planning, media, and R&D.
VLP-16
Velodyne's new PUCK™ (VLP-16) sensor is the smallest, newest, and most advanced product in Velodyne's 3D LiDAR product range. Vastly more cost-effective than similarly priced sensors, and developed with mass production in mind, it retains the key features of Velodyne's breakthroughs in LiDAR: Real-time, 360°, 3D distance and calibrated reflectivity measurements.
Applications include automotive, UAV, mapping, security, robotics, automation.
New Solid-State Hybrid Ultra Puck™ Auto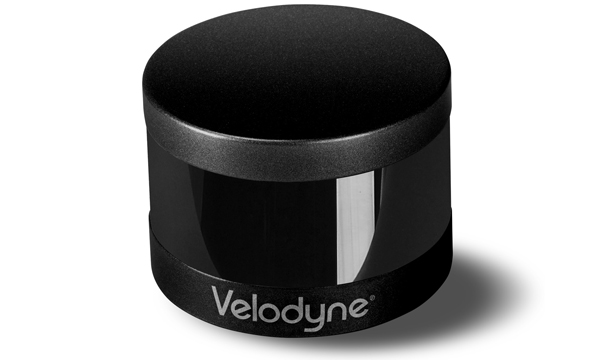 Velodyne's new Solid-State Hybrid Ultra Puck™ Auto is designed to combine the functionality of its pioneering 3D LiDAR sensors in a miniaturized form factor while extending sensing range to 200 metres.
The Solid-State Hybrid Ultra Puck Auto will be the first affordable advanced driver assistance system (ADAS) sensor capable of supporting ADAS levels 1-4/5, including fully autonomous driving, with target pricing of less than $500 per unit in automotive mass production quantities.
Ford Motor Co. has been involved in research and development of autonomous driving features for more than a decade and has worked with Velodyne during much of that time. Ford Motor Company announced this month it will be purchasing the new Velodyne Solid-State Hybrid Ultra Puck Auto for its next-generation advanced driver assistance system (ADAS).
Interested?
Mapix technologies Ltd is the UK distributor for Velodyne. If you are interested in the new Solid-State Hybrid Ultra Puck Auto and would like to discuss its application please contact sales@routescene.com.
More information on the Ford Motor Co. announcement: