Routescene LidarPod® to reduce or eliminate highway survey issues
If you have a mapping project where rapid deployment and speed of delivery is of the essence the Routescene Vehicle LidarPod is for you. New to the market, the Routescene Vehicle LidarPod is a self-contained turnkey solution which is simple to operate and quick to deploy.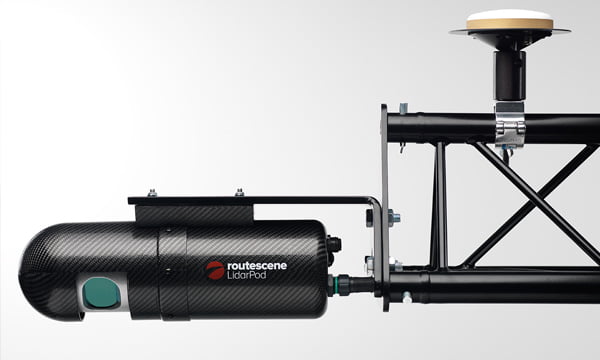 Years of survey industry experience and expertise has driven the development of the Routscene Vehicle LidarPod. We understand the challenges of mobile mapping and we know you can reduce or eliminate these issues using the Routscene Vehicle LidarPod.
Download the Routescene_UAVLidarPod brochure.
What are the benefits?
The Routscene Vehicle LidarPod is
compact and lightweight so it is easy to mount on any vehicle
portable and easy to transport to and from survey locations
a robust, self-contained, fully integrated turnkey solution
simple to operate and rapid to deploy
weather resistant so can work in all weathers
can be used on any vehicle that has a roof rack
independently CE and FCC certified to ensure compliance with electrical and radio transmission standards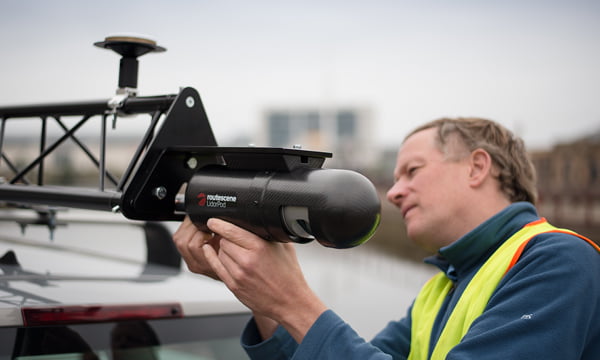 As a result you have a cost effective solution compared to other surveying products on the market as it
reduces your time in the field collecting significantly more data compared to conventional survey techniques
minimises lane and road closures by collecting detailed asset and engineering information from a vehicle
eliminates traffic management costs
ensures the safety of your personnel, performing the survey from the comfort of a vehicle, avoiding exposure of staff to fast moving traffic
is much quicker and easier to collect data compared to conventional techniques, collecting data at normal vehicle driving speed rather than at a walking pace
provides a much more detailed 3D view, due to the higher density of data collected, than using conventional GPS and GIS mapping techniques
How can I use this new technology?
The Routescene Vehicle LidarPod provides precise survey data for highway mapping, roadside engineering projects, urban planning, gaming and virtual reality content.
With the Routescene Vehicle LidarPod you can collect high resolution and more accurate data, more quickly and efficiently along a road network, to create detailed maps and 3D views.
The financial aspect
The Routescene Vehicle LidarPod costs significantly less than a typical vehicle based mobile mapping system. To add to its' appeal, the rate of return is much higher and there are certainly more benefits and advantages compared to the traditional options.
What about support?
At Routescene we have a surveying background and years of experience in highway asset mapping, so we understand how the Routescene Vehicle LidarPod will be used on road networks. We can provide an expert level of technical support which we realise can contribute to the successful adaptation of the system in your organisation and the outcomes of survey projects.
More about the Routescene Vehicle LidarPod
Any asset within the Routescene Vehicle LidarPod's wide field of view will be scanned enabling you to create a high-resolution point cloud of the surrounding area. The millions of 3D points generated by the scan are stored for easy retrieval, allowing you to visualise and measure the virtual assets in the office at a later date.
The stored point cloud data can be used to build highly detailed 3D models or create CAD drawings for engineering purposes. In both cases, the data allows you to map assets and extract their dimensions to a high degree of accuracy.