Routescene LidarPod® – a complete turnkey system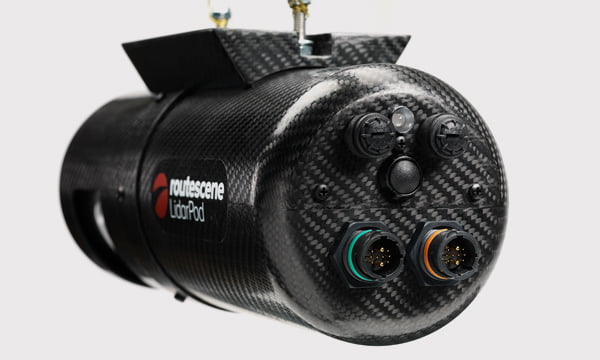 The Routescene UAV LidarPod is a complete turnkey system developed specifically for use on Unmanned Aerial Vehicles (UAVs).
Survey industry expertise is behind the Routescene UAV LidarPod. We understand the problems you need to solve and have combined intelligent thinking with experience to design a reliable, practical and cost-effective solution. As a result the Routescene UAV LidarPod is a robustly engineered, self contained system. It is simple to operate and enables rapid deployment in the field. The turnkey solution includes LidarViewer, specially developed software to handle your resulting data.
Download the Routescene_UAVLidarPod brochure.
We know the use of LiDAR on UAVs is an emerging technology. We know UAVs are often used for photogrammetry, inspection, radiation mapping, air quality monitoring, aerial photography and filming. We also know the Routescene UAV LidarPod will change this. It will revolutionise the surveying industry.
What are the benefits?
The benefits of the Routescene UAV LidarPod are many and varied including:
saves time, generating more detailed and faster results
avoids exposure of personnel to awkward, dangerous and hostile environments
reduces time in the field and collects significantly more data compared to conventional survey techniques
collates accurate, detailed measurements from the air, which are more difficult to achieve with conventional surveying
achieves quicker results by collecting all the data needed in a single pass – much quicker than traditional methods
the higher density of data collected provides a much more detailed 3D view
collects data from different angles to minimize shadows
enables increased visibility in difficult to penetrate terrains such as forests
it is portable, lightweight and compact, suitable as flight hand luggage
independently CE and FCC certified to ensure compliance with electrical and radio transmission standards
How can I use this new technology?
Our new disruptive technology is attractive for many sectors and situations where accurate mapping is essential but difficult to achieve.

Awkward, dangerous and hostile environments
The Routescene UAV LidarPod is the only safe way to survey awkward, dangerous and hostile environments. This technology is invaluable in dangerous or rough terrain where access is difficult such as landslips or disaster zones. For example, there is huge potential in the forestry, mining, utilities and energy sectors, also in route mapping, engineering projects and for defence purposes.
Where speed is of the essence
An obvious use, due to the speed of data collection and analysis, is in situations where speed is of the essence and the outcomes are needed immediately, for instance, in opencast mine planning, reconnaissance, power line inspection or emergency response.
Remote locations
The Routescene UAV LidarPod is perhaps the only viable solution for remote locations or locations with little infrastructure where airborne (fixed wing) liDAR is prohibitively expensive such as Africa, where there may not be a suitable runway in the vicinity or the cost of a piloted helicopter is too expensive.
To replace existing survey techniques
The Routescene UAV LidarPod is an alternative to and will replace many existing options. For example, compared to photogrammetry, the Routescene UAV LidarPod comes into its' own when there is the potential for strong shadows, areas of poor contrast or featureless surfaces.
With photogrammetry you will also require access to the site to survey in your ground control points, which is a time consuming task. Using LiDAR eliminates this task altogether.
The financial aspect
The Routescene UAV LidarPod costs significantly less than a vehicle based mobile mapping system. To add to its' appeal, the rate of return is much higher with a payback period calculated at around 100 days and there are certainly more benefits and advantages compared to traditional survey methods.
Photogrammetry may be a low cost purchase but is time-consuming and thus expensive in resources to undertake.
What about support?
At Routescene we have a survey and mapping background, so we understand how the Routescene UAV LidarPod will be used. We can provide an expert level of technical support which we realise can contribute to the successful adaptation of the system in your organisation and the outcomes of survey projects.
What about an UAV?
Routescene do not make their own UAV as we strongly believe this should be left to the experts. Experience and skill is needed to understand the challenges required to build a multi rotor system (drone) that can keep the LidarPod safely aloft for as long as possible. It requires expertise to consider all aspects such as the GPS antennas, which need to be mounted on a long arm to ensure the required orientation accuracy is acheived. We collaborate with UAV manufacturers and our recommended and Preferred UAV Supplier is Vulcan UAV, who are based in the UK.
More about the Routescene UAV LidarPod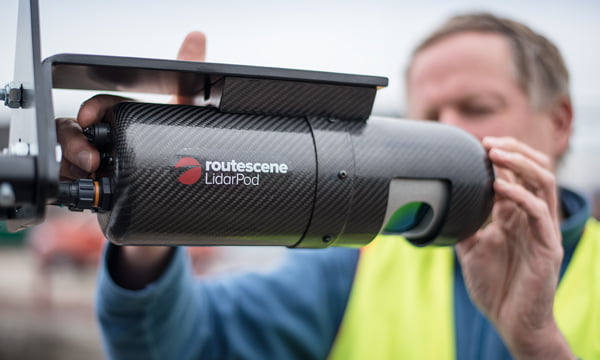 The Routescene UAV LidarPod addresses all the technical challenges that have been confounding others. We have produced a high specification and high accuracy, low weight, self contained turnkey LiDAR system which has been developed specifically for use on a UAV. The turnkey solution includes LidarViewer, specially developed software to handle your resulting data.
Data density, resolution, relative and positional accuracy
It combines the best technology on the market to capture survey grade positional accuracy together with a very high point cloud density.
The Routescene LidarPod will collect 700,000 points per second, which at an altitude of 40m and flying speed of 30km/hr equates to 300 points per square metre. This offers a fantastic richness in the dataset which greatly enhances the detail that can be collected.
Why is weight important?
There is a direct corrolation between UAV flying time and payload weight, so the payload should be as light as possible.
With the Routescene UAV LidarPod our aim was to reduce the weight as much as possible and the total weight is less than 2.5kg for the complete system. This low weight will enable a 20 minute flight duration, the typical time required to perform a survey, allowing coverage of 1 square km on a single set of batteries.
Quality and level of resilience
The Routescene UAV LidarPod is a self contained turnkey Lidar system. This means everything you need is built into the system including the GPS / INS, radio telemetry, data storage and power management. No external components are necessary which eliminates the possibility of integration issues and loose connectors.
Processing your data
We have developed special software, LidarViewer, which enables you to easily import, visualise, apply filters to the large volume of data you collect in a smart way, enabling the use of GIS and CAD packages thereafter.