What is included in the Routescene® solution
This turnkey solution combines hardware, firmware, software and workflow. All the complex integration is complete so you have a practical system ready for use.
The hardware includes the Routescene LidarPod, Routescene Ground Station, UAV Mounting Kit, dummy LidarPod for UAV flying practice, GNSS and Radio Ground Stations with antennae and tripods, GNSS and Radio UAV antennae, cables and spares, Pelican cases, Wi-Fi adaptor and a comprehensive toolkit.
The software includes LidarViewer Pro and QA Monitor.
Download the Routescene UAV solution Technical Specification.
Technical details of the Routescene LidarPod®
The Routescene LidarPod contains all you need to collect precise survey data, quality control the data in real-time and create a very dense and accurate georeferenced point cloud. The internal firmware controls the sensors, parses the raw data and transmits data samples to the Routescene Ground Station; it also manages and monitors power consumption of the LidarPod.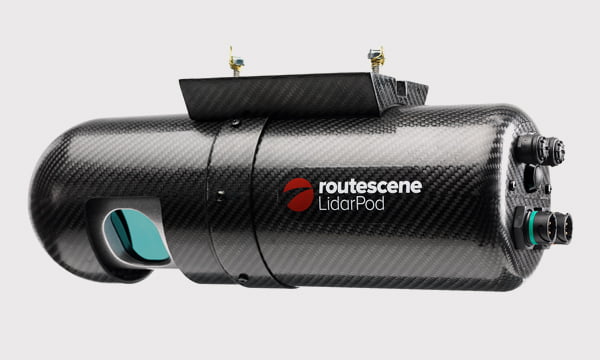 Weight: under 2.8 kg (including LidarPod, GNSS antennae, cables and UAV mounting kit)
Dimensions: 320 mm length x 100 mm diameter
Construction: carbon fibre aerodynamic protective housing with IP67 rated connectors
External Power
Switchable power from UAV to Ground supply
Supply Voltage: 12-50 vDC, 56 W max, 28 W typical
Operating temperature: -10° to +40° C
Velodyne HDL-32e
A true 3D LiDAR scanner that delivers unsurpassed resolution.
Two discrete returns (strongest and last return) and useable in either single or dual return mode
32 laser sensors / detector pairs
Class 1 eye safe
Infra-red 905 nm wavelength
Time of flight distance measurement with intensity
5-20 Hz use selectable frame rate
700,000 3D points per second
Range: Maximum up to 100 m, recommended 80 m
Range accuracy: < 20 mm
Field of View: 360º vertical and 41º horizontal
Angular separation between lasers: 1.33°
Environmental Protection: IP67
Storage
Onboard solid state data storage enabling 12 hours of data to be collected, plenty of capacity for a long vehicle survey.
GNSS fused Inertial Navigation System (INS)
A state of the art integrated Real-Time Kinematic (RTK) GNSS and INS that provides accurate position, velocity, acceleration and orientation under the most demanding conditions. The dual antenna RTK GNSS solution ensures that we can achieve the highest accuracy possible for the lowest weight. This sensor combines a multi channel GNSS receiver, magnetometers and a pressure sensor, together with a temperature calibrated Inertial Motion Unit (IMU) containing accelerometers and gyroscopes. These are coupled in a sophisticated fusion algorithm to deliver accurate and reliable navigation and orientation.
The triple-frequency GNSS receiver provides up to 10 mm accurate positioning. Supports all of the current satellite navigation systems including GPS, GLONASS, GALILEO and can be upgraded to include BeiDou. It also supports the Omnistar service for hassle free high accuracy positioning.
Horizontal Position Accuracy (with RTK): 0.008 m
Vertical Position Accuracy (with RTK): 0.015 m
Roll & Pitch Accuracy: 0.15°
Heading Accuracy: 0.07° (with 2 m GNSS antenna spacing)
Internal Filter Rate: 1000 Hz
Output Data rate: up to 100 Hz
Radio Telemetry
Dual channel UHF data link to provide remote control over the LidarPod, transmit RTK GPS corrections to the LidarPod and enable sampled sensor data to be transmitted back to the Ground Station for Status and Quality Assurance purposes.
Operating Frequency: User configurable between 403 and 470 MHz
Transmitter Power: User configurable between 100 mW, 200 mW, 500 mW and 1 W
Channel Bandwidth: 25 kHz
Configurable radio frequency: To ensure that the LidarPod can operate legally within your country, the radio frequency is configurable and can be set to a unique channel. A radio licence may be required in certain countries.
Accuracy
Accuracy depends on the flying height of the UAV, the distance to an object and the angle of incidence of the laser beam at any given point. The LidarPod INS sensor has an angular error which means that the accuracy diminishes with increasing distance.
Absolute position accuracy of 0.04 m at 20 m range
Absolute position accuracy of 0.06 m at 40 m range
The relative accuracy within a single scanner frame is 30 mm (dependent on range)
UAV mounting kit
The LidarPod is UAV agnostic and will fit on any rotary UAV that can take a payload of 3 kg. Our carbon fibre vibration damping mounting kit for the LidarPod is lightweight. Specially designed and tested for ease of use and to reduce vibration from the UAV, the mounting kit includes an equipment plate which is compatible with 12 mm diameter UAV equipment rails, the 2 rails being 160 mm apart. The equipment plate includes quick release clamps for easy deployment.
Mounting kit weight: 0.6 kg
Technical details of the Routescene Ground Station
For the Routescene UAV solution the Ground Station is an essential component of the package. It ensures RTK GNSS corrections are transmitted to the LidarPod and quality assurance and status information is transmitted to QA Monitor, the real-time in-flight data monitoring software.
The Ground Station supports L1, L2 and L5 frequencies and monitors all GPS, GLONASS, GALILEO and BeiDou satellites. This delivers the quickest and most reliable RTK initialisations for 10-20 mm positioning.
The Ground Station is robust, lightweight and portable made from carbon fibre.
The Ground Station can also be used as a stand alone GNSS RTK base station to transmit corrections to a compatible rover.
Weight: 1.3 kg
Dimensions: 220 x 195 x 55 mm
Supply Voltage: 12-24 v, 12 W
GNSS receiver
220 Channels:
GPS: L1 C/A, L2 E, L 2C, L5

GLONASS: L1, L2 C/A, L3 CDMA
Galileo: E1, E5 A, E5 B
QZSS: L1 C/A, L1 SAIF, L 2C, L5
SBAS: L1 C/A, L5
High precision multiple correlator for GNSS pseudo-range measurements
Unfiltered, unsmoothed pseudo-range measurement data for low noise, low multipath error, low time domain correlation and high dynamic response
Very low noise GNSS carrier phase measurements with < 1 mm precision in a 1 Hz bandwidth
Up to 20 Hz raw measurement and position outputs
Radio Telemetry
Operating Frequency: User configurable between 403 and 470 MHz
Transmitter Power: User configurable between 100 mW, 200 mW, 500 mW and 1 W
Channel Bandwidth: 25 kHz
Product conformity
The Routescene LidarPod and Ground Station are available for use in any country worldwide. The products are non-ITAR (International Traffic in Arms Regulations) rated so they are not subjected to export controls.
The LidarPod and Ground Station have been independently CE and FCC certified to ensure that they are compliant to electrical and radio transmission standards.
Software
 LidarViewer Pro

A Microsoft Windows 10 application offering powerful filters to decimate, analyse and convert huge volumes of point cloud data. Supplied with a Filter Development Toolkit to create your own filters to further improve the workflow. Filters to export to ASCII, LAS, LAZ and to convert the pointcloud to the OSGB co-ordinate system are included.
Recommended PC hardware: 8 Gb graphics card, Solid State Disk (SSD), 32 Gb RAM.
Real-time in-flight QA Monitor software
For immediate and continuous real-time in-flight data monitoring, this web based app gives you confidence in the data you are collecting while you are collecting it.
Accessed using a web browser from a mobile device or laptop which has a Wi-Fi connection, QA Monitor receives and displays real-time Status and Quality Assurance data from the LidarPod via the wifi access point on the Ground Station.
Windows 7 or 8, Apple OS X, Linux with a modern web browser
Android, Windows Phone or Apple iPad or iPhone
Connection to the Ground Station via Wi-Fi, USB or Ethernet
Technical details of the Routescene Vehicle upgrade
To maximise the use of your Routescene UAV solution and provide flexibility we have developed a Vehicle upgrade.
The Vehicle upgrade includes the following component parts to transform the UAV system into a completely operational Mobile Mapping System:
Odometer
Vehicle odometer which clamps onto one of the rear wheels of the vehicle. The Odometer supplies up to 4000 pulses per second to enable accurate distance travelled and velocity to be calculated. This information will augment the GPS\INS solution considerably and will reduce the drift in urban canyons.
Odometer adaptor plates for 4, 5 and 6 nut wheels
Adaptor plate bolts to accept 19, 20 and 21 mm wheel hexagonal nuts
Firmware upgrade to support the Odometer
RTK corrections
Firmware upgrade to support third party RTK GNSS corrections*.
In the event that using the Routescene Ground Station is not feasible, perhaps because of the range at which you are working and obstructions that will block a radio signal, then the firmware upgrade enables RTK corrections to be supplied by a third party service via GPRS or satellite connection.
* Receiver hardware nor subscription to such a service is not included
Vehicle support frame
A lightweight and modular support frame that can be easily be shipped
The support frame can be mounted on the roof rack of any vehicle
The support frame is isolated from vehicle vibrations using an advanced method of shock mounts
Total frame length is 2 m, supplied in 2 sections
Triangular frame with 0.22 mm sides
Do I need a Ground Station?
For the Routescene Vehicle LidarPod the Ground Station is optional as it depends on the most practical solution through which to receive the RTK GPS corrections: locally using the Routescene Ground Station, or via GPRS modem or satellite.
Then there is always the option to post-process the position data and apply the RTK GPS corrections after the survey has been completed. For vehicle surveys when a ground station is not used, QA Monitor can be directly accessed using a USB connection between a laptop and the LidarPod.