The Routescene LidarPod
Data fusion is a fast growing field. The Routescene LidarPod® and LidarViewer enable you to collect detailed terrain data which complements other datasets. Our cutting edge technology provides a novel method of data capture and has applications across a wide range of research, enabling researchers to undertake investigations and collect a level of detail not possible before.
The Routescene LidarPod is compact, self contained and lightweight so it can be used in remote, difficult to access and harzardous areas. The turnkey solution includes LidarViewer, specially developed software to handle your resulting data.
The uses of LiDAR in research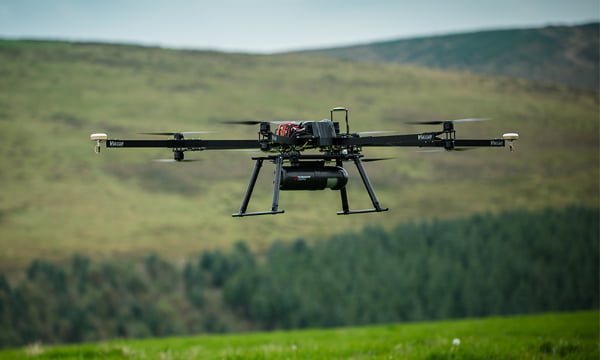 The use of LiDAR in academic research is vast, from earth sciences and robotics to archeology. LiDAR systems allow scientists and mapping professionals to examine both natural and manmade environments with accuracy, precision and flexibility.
The benefits
LiDAR offers unprecedented views of landscapes and terrain which previously would have been too labour-intensive to collect
LiDAR makes dangerous, difficult and hostile environments accessible
To develop robotic assistants to use for military or emergency rescue operations
LiDAR pushes the boundaries of research allowing scientists to discover, visualise and analyse the "secrets" of the world
LiDAR enables scientists to reduce the amount of fieldwork needed, allowing analysis and documentation to be done before and after fieldwork
Trends in academic research
Universities are working at the leading edge of research with innovative, challenging and creative work being undertaken across the globe. LiDAR technology helps researchers to consider and explore all the opportunities and possibilities, using the results to solve problems and make real progress.
Using LiDAR as a sensor in dangerous, hostile or inaccessible areas is key to many of the applications for which LiDAR in research is used. Commercially there is great interest in how LiDAR can be combined with robotics to produce our autonomous vehicles of the future.
Examples of LiDAR in research
1. Earth sciences
In earth sciences applications are varied from terrestrial laser scanning to sedimentology, structural geology, palaeontology, landslip monitoring and teaching. Specific examples of the use of LiDAR are:
Geology
rapid, high resolution, digital mapping of otherwise inaccessible outcrops at ranges from just a few metres to a kilometre
multiple scans from different LiDAR survey stations to be merged to form seamless geo-referenced photo realistic outcrop models
detailed spatial and geometrical information to measure and map small-scale sedimentary architectures, fault systems and other subtle features over large areas
reporting new scientific findings in geomorphology (including fans, channels, floodplains and landscape evolution), geologic mapping, tectonics and faulting, coastal processes, lava flows, hydrology (especially snow and runoff routing), glaciers and geo-archaeology
Natural hazards
in the UK the Environment Agency Geomatics Group has used LiDAR for the production of cost-effective terrain maps suitable for assessing flood risk
tracking renewed volcanic activity to forecast volcanic hazards – studying Mount St. Helens to track and analyse changes in the surface elevation of the crater, which began deforming in late September 2004
inundation and storm surge modelling, hydrodynamic modelling, accurate shoreline maps, emergency response, hydrographic surveying and coastal vulnerability analysis
the evaluation of natural hazards related to ground movement such as rockfalls, rock-avalanches, debris flows and landslides that directly affect the safety of motorists and highway infrastructure. Earlier detection and definition of potential zones of instability will allow for progressive monitoring and risk analysis, indicating the need for pro-active slope improvement and stabilization along transportation corridors
Palaeontology
classification according to facies, palaeoenvironmental modeling and geoconservation appraisals
a non-invasive method to explore fossils and fossil sites on the desktop where an exceptional level of visualization can be combined with analytical facilities unique to the digital environment
photo-realistic models which offer remote interactive access through virtual fieldtrips, contributing significantly to conservation and education at palaeontological heritage sites
digitise skeletal mounts of theropod dinosaurs, producing scale models to examine the mass, inertial properties and locomotor mechanics of these animals
2. Robotics
LiDAR combined with robotics has so many applications from self-driving cars to military operations and emergency rescue. In essence, LiDAR provides the robot with "senses" enabling it to "make sense of" and interpret its' surroundings correctly.
Self drive cars
the UK government recently announced that self-driving cars would hit the roads by 2015, following in the footsteps of Nevada and California. LiDAR technology is being used to build autonomous or "self-driving" cruise control systems for cars
soon autonomous robots of all shapes and sizes – from cars to hospital helpers – will be a familiar sight in public. But in order for that to happen, the machines need to learn to navigate our environment, and that requires a lot more than a good pair of eyes. For example, robots have problems recognising shadows and accounting for the way they change the landscape. LiDAR technology is being used so a robot can intelligently identify what it has detected
Military uses and hijack alert
using LiDAR so robots can recognise places, objects and people. To be faithful assistants and useful workers, robots need to recognise people and our intentions. Military robots need to correctly distinguish enemy soldiers from frightened civilians. Soldiers may soon have a better way to evaluate the interior of dangerous structures such as inside caves where terrorists might be hiding
Natural disasters
Robots using LiDAR can be used to assess safety in dangerous areas.
LiDAR is capable of revealing detailed information regarding floorplans, but it can also "see" people and objects inside a space to aide rescue
detect structural damage like cracks in beams, which would allow engineers to make safety recommendations following natural disasters
Production
LiDAR-based Teach-and-Repeat approach to mobile robots allows for the automation of logistics tasks, particularly for small lot sizes and flexible production processes which require intuitive and easy-to-use systems, allowing non-expert shop floor workers to instruct transportation systems
Agriculture
Autonomous agricultural robots using LiDAR can detect and segment plants and ground, an important prerequisite to perform localisation, mapping and navigation for autonomous agricultural robots
Space
LiDAR has been used to develop an obstacle detection system for rovers enabling terrain analysis by robots in the lunar environment
3. Archeology
LiDAR provides archaeologists with the capability to recognise and record otherwise hard to detect features. It provides highly detailed and accurate models of the land surface and other features across large areas of landscape with a resolution and accuracy previously unavailable, except through labour-intensive field survey or photogrammetry.
As a result a quiet revolution is taking place. Archaeologists are using the technology to unearth new discoveries looking at Maya cities, Renaissance palaces to numerous archaeological sites in Connecticut and Massachusetts, the landscape made famous by some of North America's earliest European settlers.
Uses of LiDAR causing a paradigm shift in archaeology include:
LiDAR can be used to record very slight earthwork remains. English Heritage and Environment Agency Geomatics Group surveyed the Stonehenge World Heritage Site and has looked at different areas of the country with varying levels of monument survival including a Roman fort at Newton Kyme
LiDAR can be used to penetrate wooded terrain, to record the ground surface under the trees through gaps in the woodland canopy, which can reveal features that would not otherwise be seen. At Savernake Forest English Heritage found the presence of an Iron Age enclosure using this technique
in the US, New England's woody hills and dales weren't always forested, many were once covered with colonial roads and farmsteads built in the colonial era. Dating to the 18th Century, the farmsteads were abandoned in the 1950's
discovery of the ruins of Mahendraparvata, a 1,200-year-old city in the Cambodian jungle
the discovery of a vast swath of ruins at Caracol, the ancient Mayan city just outside Belize. Using LiDAR, the researchers collected more topographical data in 10 hours than countless ground expeditions had yielded over almost three decades. Between 1983 and 2000, archeologists had mapped around 7.7 square miles of the Caracol site by hacking through the jungle with machetes. With LiDAR, they mapped 77 square miles in 10 hours
creating exceptionally accurate digital models of Scotland's five UNESCO designated World Heritage Sites and five international sites, which will aid in the conservation, maintenance and management of these globally important sites